EF Centrifugal Pump
The EF Centrifugal pump is a hard-working, durable product that combines efficiency and state of the art polymer materials with a great price for your industrial waste water treatment system.
---
In the EF Centrifugal Pump, we have a pump that is not only made from durable polymers – it is also extremely cost effective. 
The EF Centrifugal Pump is completely chemical resistant, both inside and out, and the process fluids are in contact with polymers not metal. In addition, top of the line seals are included in standard offerings. 
CLICK ON A THUMBNAIL BELOW TO VIEW LARGER IMAGE.
We use the best engineered plastics such as KYNAR come as standard offerings, and provide constant reliability and durability in the worst chemical applications and processes.
The Impeller is molded with tight tolerance, onto and long stainless shaft made of 304 stainless. The stainless insert is in full contact with JM type motor shafts for the full length of the impeller sleeve. This means metal on metal contact between motor and impeller for superior wear resistance and long life.
The pump can be used for solutions containing abrasives using a double mechanical seal which ideal for abrasive solutions or those containing high salt concentrations like "E"nickel ot other electroless plating solutions. Either Viton or EPDM elastomers are available on the 'EF' pump.
Non-metallic solution contact High temperature polypropylene, PVDF or ECTFE (Refer to a chemical resistance chart).
Flow rates: 175 U.S. GPM or 130 ft. TDH @ 60Hz Metric: 552 LPM or 28 M @ 50 Hz.
316 Stainless 'long' sleeve impeller insert
Single seal mechanical, or Double seal mechanical made of silicon carbide seal faces with EPDM or Viton® soft seal components
Centrifugal Pump Design – quiet, vibration-free
NPT connections molded into casing · Chemical duty motor WEG motors come standard (1.0 – 7.5 HP) 1.15 service factor at 50 or 60 Hz.
Cast bell housing coated in epoxy allows for multiple angle indexing of outlet or 60 Hz.
At Elmira Pump Company Carry many different Standard Models.
Standard models are constructed of polypropylene, PVDF, or ECTFE with threaded connections. The motor shaft is protected by the impeller sleeve assembly. Elastomers are EPDM or Viton. Impellers are enclosed. The mechanical seal is type 21, externally mounted with stainless steel components not in solution contact.
A double mechanical seal is recommended for solutions containing abrasives and for high temperature or other critical service. Close coupled motors are NEMA 'JM' or metric (IEC) standard. The motors designated NEMA can operate on 50 or 60 Hz at full rated horsepower. Consult Application Engineering Department for BSP fittings or adapters.
How to Pick the Right Model:
Select flow curve number providing the desired performance Form the Flow Curve Tab.
Then match to Model Number listed in the Pump Tables. Standard models include silicon carbide single mechanical seal with EPDM or Viton elastomers.  Motor HP is non-overloading at fullcapacity with 1.1 specific gravity fluids.
Review the EF Centrifugal Pump Flow Chart below.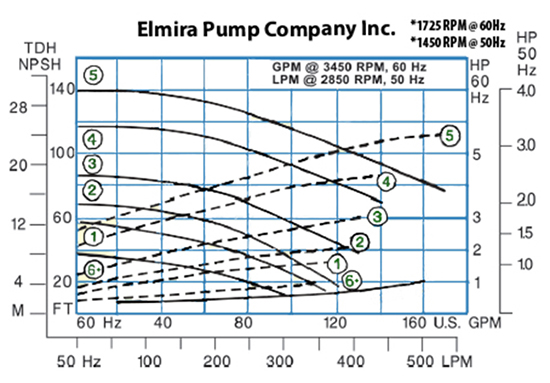 .
Review the EF Centrifugal Pump Standard Table below.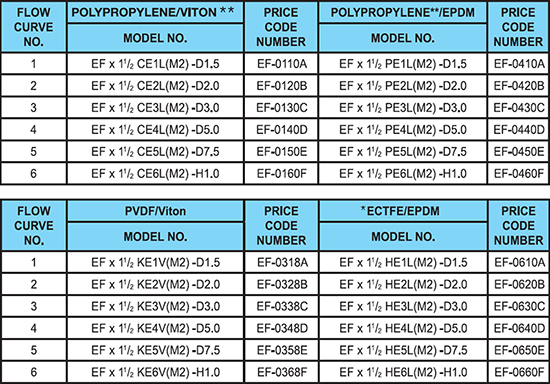 .
PDF Docs to insert here
Download File 1
Download File 2
Request More Information or Place an Order • (519) 669-8003